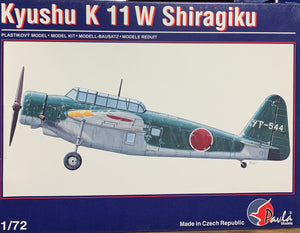 1996 Initial Release
Limited production kit. The injection molded parts have fine recessed panel lines, and includes a fret of photoetched details and film instrument panel. Includes paint guide and decals for the three aircraft listed.  
Kyushu K-11W Shiragiku - Bomber Crew Trainer and Kamikaze - Chimtao Kokutai China / Tokushima Kokuta Japan / Surrender Markings (Green Crosses)
This advanced Japanese bomber trainer carried as large of a crew as possible to cut down on training time. As it was succesful in this roll and had a large payload, an ASW version was planned and one assembled, but the prototype crashed and the program was not completed. Near the end the K-11W also served as a Kamikaze bomber.