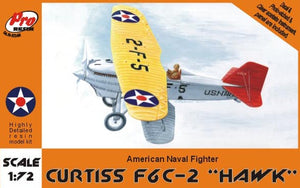 This is a resin kit - If you have not worked with resin I suggest you research the different building techniques. The parts may require some sanding in order fit properly. You must use either two-part epoxy glue or cyano (superglue) adhesive. Both of these work well, so it is down to individual preference.
The Curtiss F6C Hawk was a late 1920s American naval biplane fighter aircraft. It was part of the long line of Curtiss Hawk airplanes built by the Curtiss Aeroplane and Motor Company for the American military.
F6C-2 Model 34D strengthened for carrierborne operations and fitted with arrester hooks.
J-Bar Item 52446
Olimp Item R72005