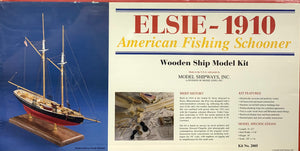 Model Shipways Elsie Fishing Schooner 1:64 Scale Solid Hull Kit MS2005
Built in 1910 at the Arthur D. Story shipyard in Essex, Massachusetts, the Elsie was designed with a semi-knockabout schooner rig, reflecting the influence of the safer, but costlier, knockabout schooners. She was outfitted with power after her 1921 race with the Canadian schooner Bluenose. Under Canadian ownership in 1935, her seams opened at the stem rabbet and she foundered in the Gulf of St. Lawrence.

Our kit is based on surveys by naval architect and historian, Howard Chapelle, plus photographs and contemporary descriptions of the original vessel. Instruction book concentrates on modeling techniques for 1/8 scale, with emphasis on rigging and its simplification for this small scale.

Historically accurate and perfectly scaled
All basswood and metal construction
Machine carved hull reduces building time
Basswood strips for planking the deck
True-to-scale wood, brass and Britannia metal fittings
Detailed plans and clear assembly instructions

Note .. kit does not include walnut display base and brass pedestals as shown in photo. These can be purchased separately from Model Shipways.