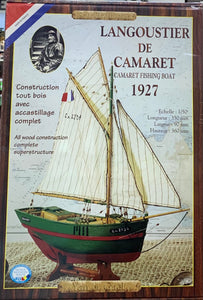 This lobster boat of particularly successful construction and design, they were excellent at sea in any speed and in any weather. Their evolution took place over barely a century and their number was very important. It was common to see up to eighty of them moving at the same time on the fishing grounds. The last ones disappeared after the Second World War.
All wood construction, pre-cut frames, woods specially chosen for each type of model. Fittings in cast metal and wood, linen cording, silk-screened sails. Detailed plans to scale with diagrams for each stage of assembly. Historical notes included

Length 350 mm
Width 90 mm
Height 360 mm
Please note that instructions and diagrams are in French with little to no English. Translations for these kits are not available.