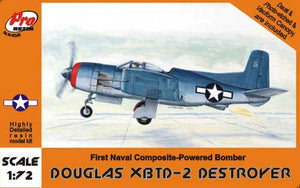 This is a resin kit - If you have not worked with resin I suggest you research the different building techniques. The parts may require some sanding in order fit properly. You must use either two-part epoxy glue or cyano (superglue) adhesive. Both of these work well, so it is down to individual preference.
The Douglas BTD Destroyer is an American dive/torpedo bomber developed for the United States Navy during World War II. A small number had been delivered before the end of the war, but none saw combat. 
XBTD-2
Prototypes with mixed propulsion, the additional Westinghouse 19B turbojet in rear fuselage giving 1,500 lbf (6.7 kN) thrust did not sufficiently improve performance. First flight May 1944. Two built.
J-Bar Item 54488
Olimp Item R72011