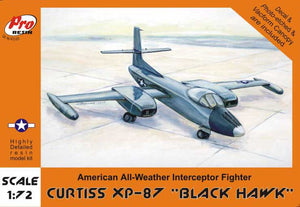 This is a resin kit - If you have not worked with resin I suggest you research the different building techniques. The parts may require some sanding in order fit properly. You must use either two-part epoxy glue or cyano (superglue) adhesive. Both of these work well, so it is down to individual preference.
The Curtiss-Wright XF-87 Blackhawk (previously designated the XP-87) was a prototype
American all-weather jet fighter interceptor and the company's last aircraft project.[2] Designed as a replacement for the World War II–era propeller-driven P-61 Black Widow night/interceptor aircraft, the XF-87 lost in government procurement competition to the Northrop F-89 Scorpion. The loss of the contract was fatal to the company; the Curtiss-Wright Corporation closed down its aviation division, selling its assets to North American Aviation.
J-Bar Item 54491
Olimp Item R72019