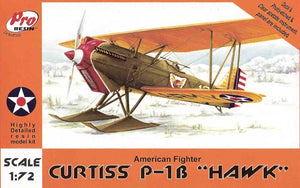 This is a resin kit - If you have not worked with resin I suggest you research the different building techniques. The parts may require some sanding in order fit properly. You must use either two-part epoxy glue or cyano (superglue) adhesive. Both of these work well, so it is down to individual preference.
The P-1 Hawk (Curtiss Model 34) was a 1920s open-cockpit biplane fighter aircraft of the United States Army Air Corps. An earlier variant of the same aircraft had been designated PW-8 prior to 1925
25 produced with Curtiss V-1150-3 (D-12D) engine. Increased weight reduced performance. Delivered 1927.
J-Bar Item 55410
Olimp Item R72021