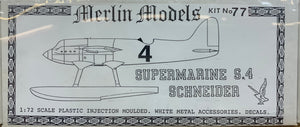 Merlin Models limted run injection model kit.
The Supermarine S.4 was a British single-engine single-seat monoplane racing seaplane, designed to compete in the 1925 Schneider Trophy.
Designed by R.J.Mitchell the S.4 was and un-braced monoplane seaplane, predominantly using wood in a metal and wood construction. The aircraft was a very clean design, with close cowling surrounding the 680 hp Napier Lion VII engine. First flying in 1925, the S.4 raised the world's seaplane record to 226.75 mph (365 km/h). During trials near Baltimore Maryland in 1925, the S.4 was seen to sideslip into the water from 200 feet. The surviving pilot stated he lost control due to violent wing vibration. Had the S.4 not been destroyed, it would likely have lost the Schneider Race to the Curtiss R3C biplane, which averaged a speed of 232.57 mph in the hands of James Doolittle.
Powered by the Napier Lion engine, maximum speed was 239 mph. The Supermarine S.4 made its maiden flight on the 25th August 1925. On the 13th September it set a new world record of 226.6, and with the fitting of a new Fairey-Reed propeller its hopes for the forthcoming Schneider Trophy race at Chesapeake Bay , Baltimore looked bright. Unfortunately it crashed the day before the race due to wing flutter.